By Rebecca Kirkman on October 5, 2020
Members of the Outstanding Young Women Leaders 2020 cohort attend a welcome event
at Towson University on January 24, 2020.
In late September, 40 young women gathered over Zoom for a conversation on resume-writing
and the undergraduate and graduate admissions processes hosted by TU Presidential Scholar Nancy Grasmick as part of the Women's Leadership Collective. Attendees included TU students and members of the inaugural Outstanding Young Women
Leaders cohort, made up of seniors from Baltimore County high schools.
"I learned valuable information about the services Towson offers graduating seniors
like myself," says LaKaitlin Wright '20, a gerontology major and member of the women's
basketball team. "I also learned tips for interviewing during the pandemic. I found
that very helpful because I will enter the career path soon."
During the hour-long event, Lorie Logan-Bennett, assistant vice president of career
services, and TU admissions counselor Courtney Cox spoke with attendees about what
to expect in the college or job application process and how to network, craft resumes
and prepare for interviews.
The September meeting was one in a series of virtual Grasmick Leadership Conversations
hosted by the Women's Leadership Collective over the past four months as the program
pivoted to virtual formatting.
On Nov. 4, Kim Williams of First Financial Federal Credit Union will provide personal
finance management tips for students living independently for the first time.
In earlier conversations, physician and researcher Kristi Briggs shared her journey
from a Maryland public high school to a prestigious fellowship with Johns Hopkins.
Congressman John Sarbanes discussed his leadership journey and pathways to public
service as well as the importance of leadership in today's political climate.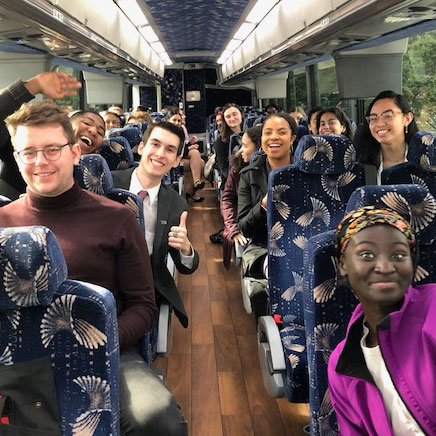 Baltimore County high school and TU students travel to Annapolis with the Women's
Leadership Collective on March 2, 2020.
The Women's Leadership Collective launched in April 2019 as an umbrella organization for programs designed to educate and inspire women at
the high school and collegiate levels as well as mid-career professionals.
Six years ago Grasmick developed the Professional Leadership Program for Women, a four-month professional development program for mid-career women offered annually
through the Division of Strategic Partnerships and Applied Research.
"Building on Towson University's excellent and well-deserved reputation in the area
of leadership, I wanted to expand our women's leadership program to include young
women in Baltimore County high schools and to expand opportunities for talented young
women on Towson's campus," Grasmick says. "Our goal is to provide the knowledge and
skills that the next generation of leaders will need to be successful in their future
endeavors."
The 2020 Professional Leadership Program for Women included two cohorts for the first
time. When the novel coronavirus made in-person meetings impossible, members voted
to suspend the program until they could resume in a nonvirtual format.
Read more: Leadership program expands, creating more opportunities for more women
The Outstanding Young Women Leaders program—launched in January—has continued to operate
online through the pandemic.
On top of opportunities for skill-building and networking, members of the inaugural
cohort and their female corporate mentors meet one-on-one virtually throughout the
yearlong program.
During the winter and spring, Grasmick identified and arranged opportunities for young
women in the collective to meet and learn from women in leadership. In February, members
of the TU Student Leadership Advisory Council sat down with President Kim Schatzel,
who shared her leadership journey from the production line of the Ford Pinto to the
presidency of TU.
In early March, the high school cohort and TU students visited the Maryland State
House in Annapolis, where they learned from women legislators, including Speaker of
the Maryland House of Delegates Adrienne Jones.
Plans for 2021 Women's Leadership Collective programming are underway. In December,
each high school principal in Baltimore County will nominate one rising senior to
be part of the 2021 Outstanding Young Woman Leader cohort, which will launch in January
2021. And the application period for the 2021 Professional Leadership Program for Women will run through Nov. 20.
This story is one of several related to President Kim Schatzel's priorities for Towson University: TU Matters to Maryland.
---
This press release was produced by Towson University. The views expressed here are the author's own.