President Donald Trump doubled down on his pledge to introduce "patriotic education" into American schools at a campaign rally, one week after he threatened to defund schools that planned to include The New York Times' 1619 Project in their curriculums.
The commander-in-chief told supporters at his Sunday rally in Henderson, Nevada that he would bring an end to the "radical indoctrination" of students and ensure they were taught to "love our country" and honor U.S. history.
Trump previously called for a "patriotic education" to be restored in the nation's schools at the end of August. He told reporters at the time that young Americans had been "fed lies" about the country.
Speaking at his Nevada rally last night, the president said: "We will stop the radical indoctrination of our students and restore patriotic education to our schools. We will teach our children to love our country, honor our history, and always respect our great American flag.
Newsweek subscription offers >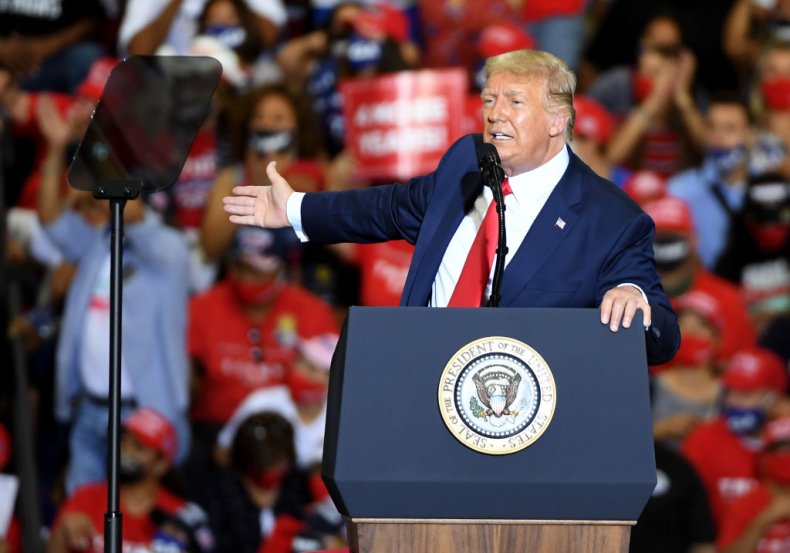 "We will live by the timeless words of our national motto, in God we trust. And we're going to keep it that way."
Earlier in his speech at the Xtreme Manufacturing facility, the president added that he would provide "school choice" for every parent in America if he is handed a second term in the White House.
Trump reiterated his pledge to make education "patriotic" a week after he threatened to pull the plug on funding for public schools that added The New York Times' 1619 project to their curriculums.
Newsweek subscription offers >
The Times' ongoing project, launched in August last year, seeks to put slavery and the contributions of Black Americans at the center of U.S. history in an effort to reframe the country's view of its past.
Reacting to a social media post claiming that the 1619 Project would be taught in California schools, Trump tweeted: "Department of Education is looking at this. If so, they will not be funded!"
A number of historians have called the historical accuracy and veracity of the 1619 project into question since its launch, with five historians writing to the Times in December 2019 to raise concerns about claims in the piece.
"These errors, which concern major events, cannot be described as interpretation or 'framing,'" the historians wrote at the time. "They are matters of verifiable fact, which are the foundation of both honest scholarship and honest journalism. They suggest a displacement of historical understanding by ideology."
The scholars took particular issue with the project's assertion that the American Revolution was prompted by colonists who wanted independence from Britain to uphold slavery.
However, the project has also received critical praise, with New York Times Magazine journalist Nikole Hannah-Jones winning a Pulitzer Prize for commentary for her 1619 Project essay.