In 1995, just after the 75th anniversary of the 19th Amendment to the U.S. Constitution, then-First Lady Hillary Rodham Clinton gave a historic speech in Beijing at the United Nations Fourth World Conference on Women. There, she famously declared that "human rights are women's rights, and women's rights are human rights," discursively weaving the struggle for gender equality in the U.S. to the struggle for gender equality around the world.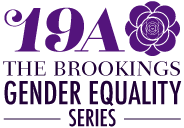 As the U.S. commemorates the centenary of the 19th Amendment and the world celebrates 25 years since the Beijing Platform for Action—which set a global agenda to remove systemic barriers holding back women's full participation in public and private life—there is much stocktaking that the U.S. needs to do with regard to its role in advancing gender equality beyond our borders. In particular, the U.S. government's role in promoting girls' education, a key pathway to achieving gender equality, must be stepped up significantly.
Girls' education, alongside improved sexual and reproductive health and rights, has often been cited as the world's best investment, the key to enabling girls and women more agency in their homes, communities, and countries. Educating girls contributes later to their increased formal economic opportunity and wages, decreases in pregnancy and early marriage, reduction in child and maternal mortality, better educated children when they do bear children, increased participation in politics, and decreased climate risk vulnerability. The list of spillover effects from an investment in girls' education runs long as a result of empowered women; healthier families; and more resilient economies.
In the United States, progress in the education of women and girls has been an important step to (and byproduct of) advancing gender equality in all facets of domestic and work life. The story of female education and progress toward gender equality has been similar in many other high-income and upper-middle income countries around the world. But it has been patchwork or stalled in many low-income countries due to geopolitical, economic, and social barriers, as well as a lack of funding targeting countries with the greatest gender gaps in education.
An uneven story of progress, threatened by COVID-19
While women in the U.S. were surpassing men in earning doctoral degrees in the early 2000s, the number of illiterate women in low-income countries was actually increasing by 20 million between 2000 and 2016)—although this trend was primarily the result of decades of exclusion from education as girls aged into adulthood. During this same period, access to education for successive cohorts of girls began to increase as the era of the Millennium Development Goals ushered political attention to address gender gaps in education. Indeed, in just under two decades, gender gaps in education closed tremendously. Between 2000 and 2018, the number of primary school aged girls out of school fell by 44%, and by 2019 nearly two-thirds of countries had achieved gender parity in primary education. However, progress has plateaued over the last decade. Conflict in Northern Africa and Western Asia have made the region furthest from parity in primary education, and gender gaps in secondary education persist in sub-Saharan Africa.
Analysis at the Brookings Institution estimates that education gaps between rich and poor girls will take a long time to close; universal secondary education for the poorest girls in sub-Saharan Africa is estimated to be achieved by 2111. When it comes to individual countries, these gaps may take even longer to close.
Prior to the pandemic, estimates suggest that 130 million girls were out of school around the world. If countries like the U.S. do not actively work to ensure special attention is paid to girls in the COVID-19 recovery plans of countries where girls face increased vulnerabilities, there could be an additional 20 million girls globally who do not return to school.
A troubling trend toward realizing gender equality through education
Since First Lady Clinton's speech, girls' education has become a political priority among many governments and high-level political fora promoting gender equality. The money appeared to have followed, most notably in the last decade as corporate engagement in girls' education increased and as special funds, like the UK Department for International Development's Girls' Education Challenge, were dedicated. In 2010, 20% of overseas development assistance (ODA) targeted at gender equality went to the education sector, making the education sector the largest recipient of ODA targeting gender equality. But in 2018, while the overall ODA bucket to gender equality nearly doubled (from US$25.3 billion in 2010 to US$48.7 billion), the education sector's share has been halved.
Moreover, globally, investment decisions have not always appeared to be made on the assessment of need alone. For example, a Brookings analysis of multilateral, bilateral, foundation, and corporation financing of girls' education found that countries with some of the largest gender gaps in education were not receiving any ODA or philanthropic donor funding targeting gender equality in education.
So, while investments toward promoting gender equality are on an upward trend, countries may be losing sight of the importance of investing in girls' education as a critical entry point. And, those funds that have been allocated may not be targeting geographies where the road to gender equality is the longest and hardest.
A troubling trend in U.S. leadership
Amidst this global trend in girls' education leadership and financing, it appears that the United States may be moving in the wrong direction for girls as well. Indeed, the U.S. record on advancing gender equality overseas has been inconsistent and highly dependent on the incumbent administration's priorities. The last few years suggest a troubling trend.
Under the Obama administration, bilateral, allocable aid targeting gender equality grew from 0.05% to 7.91% of total aid between 2009 and 2016. Within his first week in office, President Obama signed into law legislation that would strengthen women's ability to challenge pay discrimination in the U.S., setting in motion a host of government initiatives and programs that would signal his feminist presidency at home and to the world. During this time, too, the U.S. adopted a whole of government approach to empower adolescent girls, which focused attention on enhancing girls' access to quality education among other strategies to enhance the status of girls, improve girls' health, and build girls' leadership.
However, the Trump administration brought quick rollbacks. Notwithstanding his unabashed parading of misogyny and sexism, within his first 100 days in office President Trump reinstated and expanded President Reagan's Global Gag Rule, which cut all federal aid associated with efforts to provide girls and women access to safe family planning, and derailed Let Girls Learn, First Lady Michelle Obama's initiative targeting educational opportunities for adolescent girls. Such signaling was followed by a host of setbacks for gender equality in the U.S. and a sharp fall in the percentage of U.S. aid (to 2.6% by 2018) aimed at principally advancing gender equality overseas.
Although Ivanka Trump, an advisor to the president, spearheaded the Women's Global Development and Prosperity Initiative  in 2019 as a means of maintaining U.S. foreign policy objectives in women's economic empowerment, there is a notable absence of attention to girls' education and family planning—two important factors to ensuring women's economic inclusion. And while attention to girls' education is present in USAID's 2020 draft, Gender Equality and Women's Empowerment Policy, the absence of attention to "gender-related power imbalances" (which was referenced in the 2012 policy), sexual and reproductive health and rights, and girls' and women's access to comprehensive family planning, means that efforts to advance gender equality through education will ultimately fall short.
As things currently stand, the U.S. has gone from an intersectional approach to gender equality that sought to combat discrimination on multiple, simultaneous, and intersecting fronts, to one that is piecemeal, incoherent, and takes several steps backward.
Three actions to reverse course
As we mark 100 years since the 19th Amendment to the U.S. Constitution and 25 years since the Beijing Declaration, we must consider that girls today in developing countries do not have another 100 years to wait for gender equality. If humanity is to realize Generation Equality by 2030, the U.S. has an important role to play in helping other countries "build back equal" for girls, especially in the wake of COVID-19. It can start in three ways:
1. Adopt a feminist foreign policy. A feminist foreign policy can be defined as: "the policy of a state that defines its interactions with other states … in a manner that prioritizes peace, gender equality and environmental integrity [and] seeks to disrupt colonial, racist, patriarchal and male-dominated power structures." To date, only five countries (Sweden, Canada, France, Luxembourg, and Mexico) have adopted a feminist foreign policy—although many more countries have declared being a feminist government.
The U.S. should lead the charge in the second wave of countries adopting a feminist foreign policy. It can do so by centering girls' education (as well as girls' sexual and reproductive health and rights) into U.S. foreign policy, national security, international development, and humanitarian assistance. With such strong returns on investments in girls' education and the current lack of such funding in the regions that need it most, girls' education is low-hanging fruit when it comes to advancing progress in gender equality and promoting girls' and women's full participation in public and private life.
This idea already has momentum on Capitol Hill. In September, Congresswomen Jackie Speier (CA-14), Lois Frankel (FL-21), and Barbara Lee (CA-13) introduced legislation to support the goals of a feminist foreign policy. Their legislation calls for a U.S. foreign assistance policy among others that will "promote gender equality and focus on the experience of women and people who experience multiple and intersecting forms of discrimination, such as gender-based violence, lack of access to sexual and reproductive health, lack of access to education, and the burden of unpaid care responsibilities."
2. Increase ODA toward gender equality as a principal goal. Feminist advocates recommend that countries should allocate at least 20 percent of their total aid to investments with gender equality as a principal objective, and at least 85 percent as a significant objective. Presently, the U.S. is far below the OECD average and trails behind Sweden and Canada, two governments that have adopted a feminist foreign policy. Although the U.S. is the fourth largest net funder of gender equality ODA, this amount reflects only 21% of its overall aid (compared to 90% in Canada and 87% in Sweden). The U.S. needs to dramatically increase its gender equality ODA if it wants to walk its talk.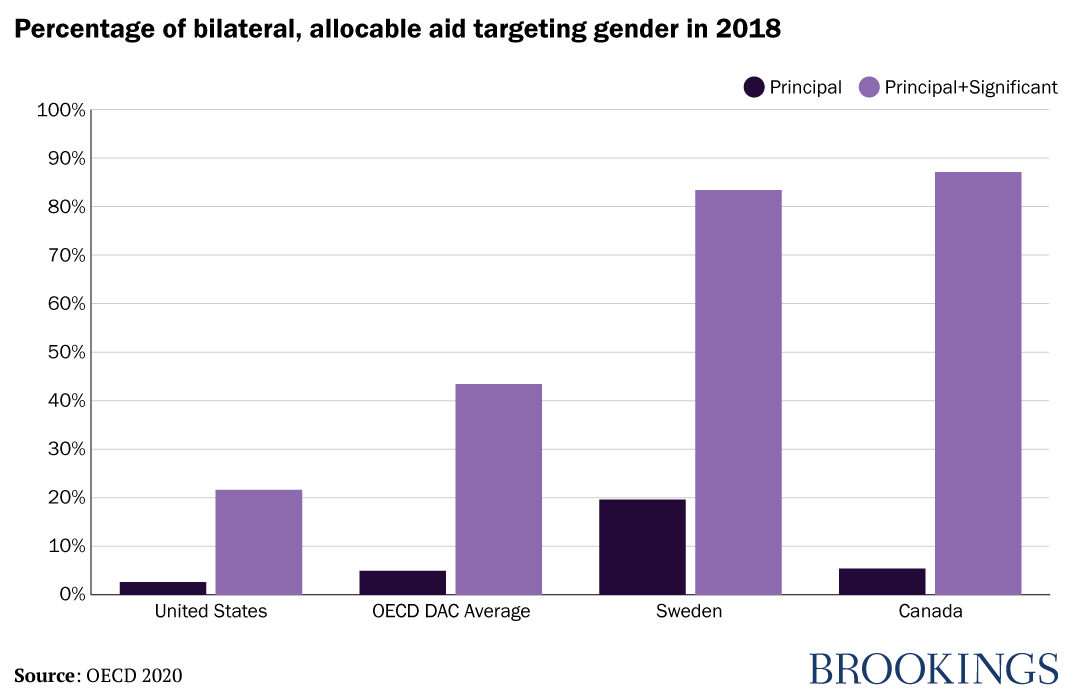 3. Give way to gender transformative leadership. Research has pointed to the important role of transformative leadership to promote progress in girls' education specifically and gender equality broadly. Such leadership is needed not only at the level of individual political leadership (e.g., President and First Lady Obama, Congresswoman Nita Lowey, former Executive Director of the White House Council on Women and Girls Tina Tchen, etc.), but also through collective political leadership (e.g., through whole of government approaches, bipartisan working groups, cross-agency partnerships, and the members of the Democratic Women's Caucus pushing for a feminist foreign policy today). Luckily, the U.S. isn't short on transformative feminist leaders whose leadership on issues of gender equality should be amplified throughout U.S. international development programs, including education.
Congress doesn't have to start from scratch when it comes to enabling policy frameworks for greater feminist action. For example, Congress passed the bipartisan Reinforcing Education Accountability in Development (READ) Act in September 2017, making it easier for the U.S. to partner with other countries and organizations to promote basic education in developing countries. Congress should use this groundwork to further advance legislative efforts that identify and address the specific barriers girls face in accessing and completing quality, gender transformative education around the world. Requiring outward facing departments such as the Department of State and USAID to develop strategies that bolster adolescent girls' participation in democracy, human rights, and governance would help cement women's and girls' rights in the center of foreign policy decisions instead of being tacked on to programs with other aims.
There never was a better moment to take stock of the United States' role in advancing gender equality at home and overseas. As the world is still trying to land on its feet from the COVID-19 shock, a fuller commitment to girls' education through a U.S. feminist foreign policy could help reinvigorate global progress toward gender equality. In another 100 years, we should hopefully be able to look back and say that universal education for girls did for women and girls in the world what the enactment of the 19th Amendment did for gender equality in the U.S.
I would like to thank Katie Poteet for providing valuable research assistance.