On Monday, California unveiled its "Education to End Hate" initiative, a plan to offer anti-racist training to public school communities. The state is also moving forward with a mandatory ethnic studies curriculum for public schools despite threats made earlier in the month by President Donald Trump to deny federal funding to any schools that teach curriculum based on "The 1619 Project," a New York Times Magazine feature examining the nation's anti-Black political history.
While it's unclear whether California's new curriculum will actually incorporate "The 1619 Project," the state's educational plan seemingly defies the Trump Administration's recent denunciation of anti-racism and diversity training programs as "divisive, anti-American propaganda."
The "Education to End Hate" initiative seeks to "empower educators and students to confront the hate, bigotry, and racism rising in communities across the state and nation," according to a press release from the state's Department of Education.
The initiative will offer educators $200,000 annually in mini-grants for receiving anti-racism and bias training; allow students, educators, and families to attend a "virtual classroom series" to address modern-day discrimination and how to end it; and roundtable discussions between lawmakers, educators and prominent racial and social justice organizations about how schools can influence students in more effective and inclusive learning environments.
Newsweek subscription offers >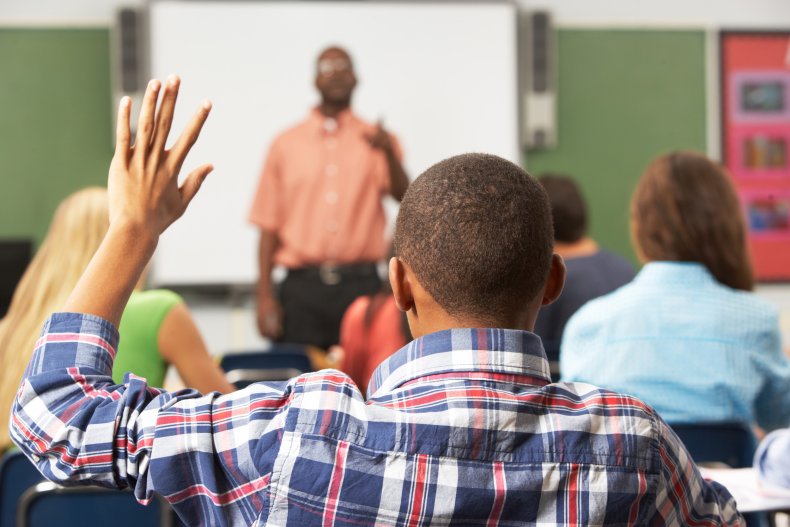 "It feels like every day we are seeing heartbreaking examples: more anti-Semitic behavior, bullying of Asian-American students because of our President's rhetoric, Islamophobia, discrimination of our LGBTQ neighbors, and violence directed at people of color," said Tony Thurmond, the California State Superintendent of Public Instruction.
"By digging deeper into the complexities of our diverse and difficult histories—not denying or ignoring them—I believe education can provide the pathway to healing, understanding, and racial and social justice," he continued.
On August 31, the California legislature approved AB331, a bill that would make ethnic studies courses a graduation requirement for all California high school students by 2029.
Newsweek subscription offers >
Although the state's Department of Education has until the end of March 2021 to develop its final curriculum, the program seeks to get students to think critically about racial issues in the surrounding world, "tell their own stories" and develop "a deep appreciation for cultural diversity and inclusion" and engage "socially and politically" to eradicate bigotry, hate and racism, according to The Los Angeles Times.
The state's Democratic Governor Gavin Newsom is expected to sign the bill into law.
On September 6, Trump replied to a tweet stating that California had implemented public school curriculum based on "The 1619 Project" by stating, "Department of Education is looking at this. If so, they will not be funded!"
At a White House history conference on September 17, Trump said, "The left has warped, distorted, and defiled the American story with deceptions, falsehoods, and lies. There is no better example than the New York Times' totally discredited 1619 Project. This project rewrites American history to teach our children that we were founded on the principle of oppression, not freedom."
He then signed an executive order establishing "the 1776 commission," a national commission to promote "patriotic education."
On September 4, Russell Vought, director of Trump's Office of Management and Budget, issued a memo on Trump's direction telling the heads of all federal agencies to end anti-racism and diversity training programs.
The memo called such programs "divisive, anti-American propaganda," declared the office's intention to end funding for such programs and stated, "The divisive, false, and demeaning propaganda of the critical race theory movement is contrary to all we stand for as Americans and should have no place in the Federal government."