The Syracuse University community is mourning the passing of Bridget Lawson, a dedicated staff member, friend, mentor and emerging scholar. For 20 years, Lawson was a fixture in many Syracuse University initiatives, academic opportunity services and organizations that benefitted diverse populations of students in educational and community settings.
Lawson had recently stepped into a new professional role as the assistant director of the Syracuse Office of Undergraduate Research and Creative Engagement (The SOURCE). For three years prior, she was the coordinator of academic services for the Collegiate Science and Technology Entry Program (CSTEP).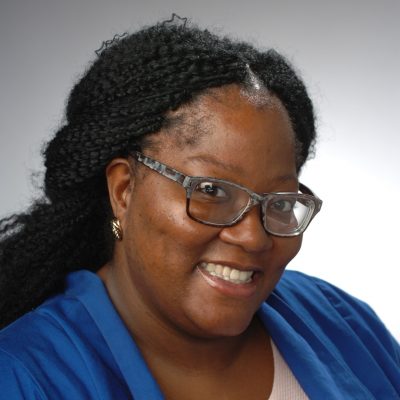 Leonese Nelson, program director for CSTEP, says Lawson's impact "reached beyond the campus community to the greater Syracuse community. She was a true advocate for students."
Lawson held a bachelor's degree in human services from Cazenovia College and a master's in social work from Syracuse University. She was near completion of a Ph.D. in cultural foundations of education in the School of Education, and her degree will be conferred posthumously.
"Bridget Lawson was my friend, colleague and a mentor of mine," says Hugh Burnam, Lawson's friend, former classmate and officemate. "Bridget was a couple years ahead of me in the program, so I relied on her for advice and support. When I became overwhelmed, messed up or stumbled in some way, she shot me a quick look, and many times said something along the lines of, 'Boy, get your act together!' She made me laugh and became my first friend in my Ph.D. program which means so much to me."
Throughout her doctoral studies, Lawson worked as a graduate assistant for initiatives such as Early College High School at Nottingham, Say Yes to Education and Writing Our Lives.
Jeffery Mangram, associate professor in the School of Education, was at the helm of the Early College High School project and recalls Lawson's contributions as an assistant instructor. "She held historical, institutional and social knowledge about the Syracuse City School District and the South Side of Syracuse. She became touchstones for so many of the 100 students or so we worked with, listening to and counseling the students on not only academic issues but also personal issues. She was proud to have graduated from the Syracuse city schools and living, still, on the South side of Syracuse. She modeled for the students (and for all of us) the dignity and grace of being an African American woman."
Through Writing Our Lives, Lawson worked with Marcelle Haddix, Dean's Professor of Reading and Language Arts and department chair, and formed an academic bond and a friendship. "Syracuse University, the School of Education and the entire Syracuse community will feel the gravity of this loss for some time," Haddix says. "As her advisor and friend, I feel blessed that I had the opportunity to know Bridget and to work closely with her. She was an exemplar of what it means to be of service to one's community.  She was that silent force and presence, always there and giving of herself."
Beyond her contributions to Syracuse University, Lawson had worked for the Syracuse City School District as a substitute teacher, for the Center for Community Alternatives, the Dunbar Association, Contact Community Services and SUNY Oswego. She dedicated her life to creating opportunities for academic success initiatives, preparing students for research opportunities and facilitating diversity, equity, community-based and social justice activities.
"Bridget was always happy to see me and others, I could not have been more proud to have worked with this remarkable woman," says Mangram. "The loss is both sad and tragic. She had so much knowledge and grace to share with all of us."