Barbara Birkett and Gregory D'Amico, faculty members at Rochester Institute of Technology, were appointed to two of the Department of Graphic Media Science and Technology's (GMST) prestigious endowed professorships this fall. Birkett assumes the role of the Paul and Louise Miller Endowed Professorship. D'Amico will serve as the Gravure Endowed Professor. Both faculty-researchers began their new roles on July 1.
"We are delighted to have Dr. Birkett and Dr. D'Amico fill these endowed positions as we continue to rebuild our programs. They both bring a wealth of experience from the business-side of the industry to these roles," said Bruce Myers, associate professor and department chair of Graphic Media Science and Technology. "Dr. Birkett's knowledge of the financial aspects of the graphic media business offers a unique perspective to the Paul and Louise Miller Endowed Chair, while Dr. D'Amico's history of research, writing, and consulting on the management of printing operations will be welcomed in his role as the Gravure Endowed Professor. We look forward to their continued teaching and research while enhancing our offerings to both students and the industry as they fulfill these roles."
Paul and Louise Miller Endowed Professorship
Beginning at RIT as an adjunct professor in 1978, Birkett has taught courses in printing industry trends and technologies throughout her tenure. She has also held a variety of leadership positions in the department and at the university including as interim associate dean when the department was part of RIT's College of Art and Design. It has since moved to RIT's College of Engineering Technology as of 2019.
As the Paul and Louise Miller Professor, Birkett will focus on bringing recognition to the evolving printing and graphics communications industry through research and developing academic and professional programs. The Paul and Louise Miller professorship is an endowed chair at RIT that was established in 1976 by the Trustees of the Gannett Foundation in honor of Paul and Louise Miller. Paul Miller rose to a position of international influence in both the Gannett Corp. and The Associated Press, becoming president of Gannett Corp. in 1957 and elected president of The Associated Press in 1963. One of the professorship's goals is to bring greater recognition to the newspaper industry.
Birkett will continue to oversee student co-op experiences and acts as advisor to the department's graduate students. She has expertise in management and leadership trends in the graphic media publishing industry and research interests that span leadership practices and printing technology management. Birkett received her undergraduate from Aquinas College, and an MBA from the University of Michigan in international business and an MBA from RIT in accounting. Her Ph.D. from Capella University is in organization and management, and she is licensed as a certified public accountant.
Gravure Endowed Professor
The Gravure Endowed Professor is funded by an endowment from the Gravure Association of America. The position has been created to further gravure research and to promote gravure education in the curriculum. Gravure is a complex high quality, high volume printing process.
The professorship is a three-year research focused position. D'Amico is an expert in graphic communications management and brings a background in both industry and academia to the position. He has been at RIT since 2015, and teaches media business management coursework as well as industry trends and topics. D'Amico has extensive industry experience having worked as a management consultant, business development and production manager at several printing companies.
Prior to coming to RIT, D'Amico was an adjunct faculty member at both New York University and Kean University, teaching a variety of courses in graphic communications. He is a member of the International Graphic Arts Education Association and received his graduate and doctoral degrees from New York University's Steinhardt School of Education.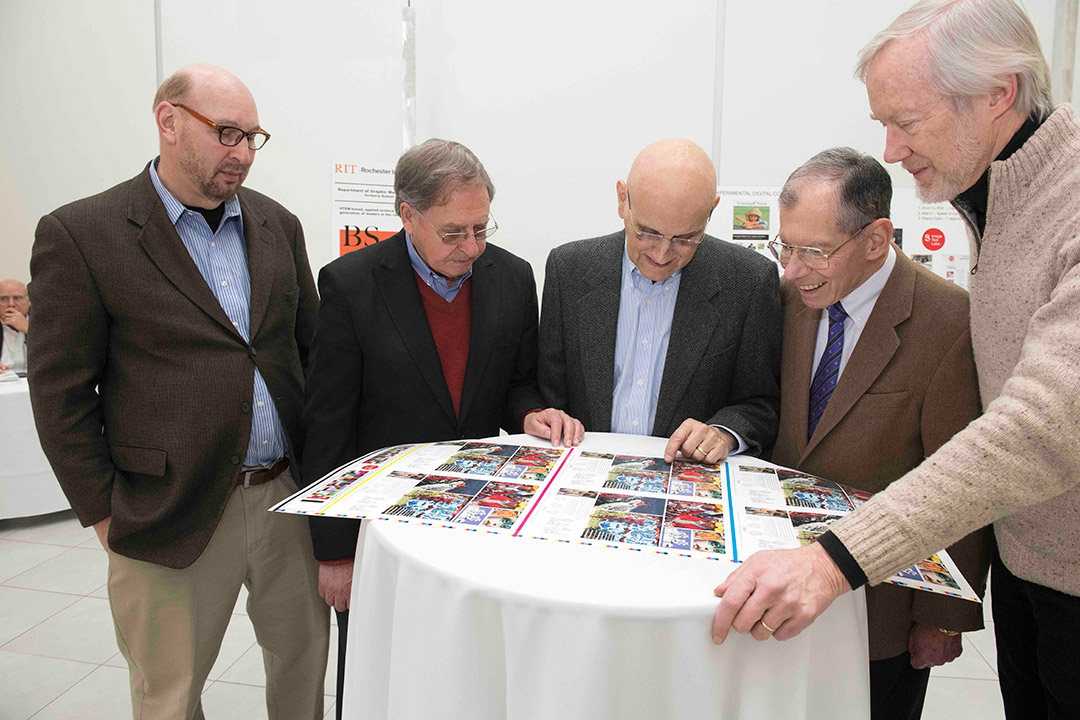 ‌
A. Sue Weisler
D'Amico replaces Professor Robert Eller, who has held the position since 2016 and led efforts to assess the future of the Gravure industry in the country. One of his key initiatives as the Gravure Professor was to continually focus on the advances in the industry, and he introduced one of the printing industry's key moments in 2019 when scientists from Image Test Labs, matched image quality of traditional offset printing using a web-fed inkjet printer in production conditions. Eller will remain at RIT as professor emeritus, teaching part time in GMST.
In 2019, the former School of Media Sciences moved to the College of Engineering Technology to strategically align academic programs in printing, packaging science and technology. In 2020, the school was renamed the Department of Graphic Media Science and Technology to focus in its advances in interdisciplinary trends and technologies in the evolving printing industry. Packaging represents a growth market in the graphic communications industry and the interdisciplinary nature of both degree programs can better position students for careers and research initiatives, including those in the printed electronics industry.