Swag is synonymous with corporate events as companies entice attendees with freebies in return for a chance to demonstrate their product. But handing out promotional gimmicks that eventually find their way into a landfill doesn't fit well with the open-source culture of sustainability and giving back.
And when developers don't like something, they change it. So, during the recent KubeCon + CloudNativeCon Europe Virtual event, partners Cockroach Labs Inc., Sysdig Inc. and Instana Inc. switched the gift-giving paradigm, gaining potential customer's attention by raising funds for STEM charity Black Girls Code.
"From a marketing perspective, it was something everyone on the team felt better about than buying yet another cheap tchotchke to give out. And it ended up being just a roaring success," said Peter Guagenti (pictured, right), chief marketing officer at Cockroach.
Guagenti and Janet Matsuda (left), chief marketing officer at Sysdig, spoke with theCUBE for a Women in Tech special feature on the KubeCon for Good initiative to reward attendance with donations instead of stuff.
Kindling lifelong passion
As one of only a few girls in her accelerated math classes, Matsuda became accustomed to being in the minority from a young age. Math and business were her first loves, and she assumed she'd be a math major. Then, needing a quarter credit to graduate, she signed up for a computer science course and her life path shifted.
"I had no idea what programming was like, and then I took that class and I was like, 'Wow, I love to puzzle. This is so fun!'" she said.
A computer science degree from the University of Iowa followed by a master's in business administration from Harvard set Matsuda on the road to Silicon Valley. Her first job was as a programmer, and she was pleasantly surprised to find more women peers than she'd experienced in the Midwest.
"There were only one or two other women who had English as their first language," she said of her undergraduate classmates.
If there were few women then, there are fewer now. The number of women graduating with computer science degrees has dropped since Matsuda attended UI. Statistics from the U.S. National Center for Education Statistics show the percentage of women gaining bachelor's degrees in computer and informational sciences peaked in 1983-84 at 37.1% of total enrollment.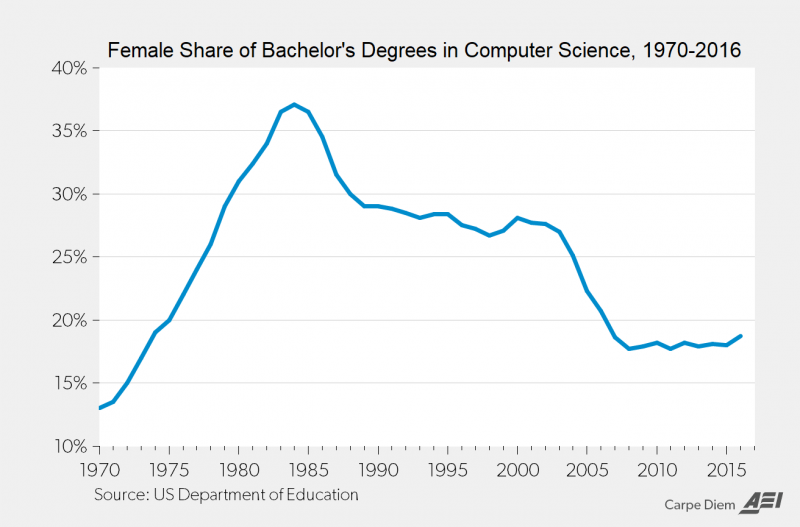 Thirty-five years later, the figures for academic year 2017-18 show 80% of computer and informational science degrees awarded to men and only 20% to women. This compares with liberal arts and sciences, where 62% of degrees went to women and 38% going to men.
Teenage drop-out affects diversity in tech
The pre-teen to teen years are critical to keep girls interested in science, technology, engineering and math, according to Matsuda. "That's where they start to think that it's not cool for girl's to be technical," she said. "You have to get kids interested in tech at a younger age."
This is where Black Girls Code enters the picture. "What's great about BCG is that it gives people exposure, opening their mind up to options," Matsuda said. "Often times they don't have exposure to even understand what's possible."
Sysdig has a strong support culture for its female employees, according to Matsuda. And the company is invested in encouraging young women to join the field. Looking for unique, attention-grabbing strategies for KubeCon, the marketing team decided to livestream a celebrity version of their Cards Against Containers game.
"KubeCon has history of valuing giving back to the community," Matsuda said. "There's a philosophy that's different from other shows. That event got a lot of people joining, and for each attendee we donated funds to Blacks Girls Code."
Did you hear? @InstanaHQ teamed up with @CockroachDB & @sysdigto donate $2 to @BlackGirlsCODE for every visit to our booth! And if you schedule a demo with @InstanaHQ, we'll donate $3. Register today!#KubeCon #Partnersforgood #GirlsinSTEM #apm #monitoring @CloudNativeFdn pic.twitter.com/VeR0Nr1ZP7

— Instana (@InstanaHQ) August 13, 2020
Invest in community for company growth
The idea for donations instead of gifts originated with Jacob Paul Sisneros, events marketing manager at Cockroach Labs. The company's reputation for high ethical standards played a part in Guagenti's decision to accept the role as head of marketing.
"They hold themselves to a higher standard," he said. "I think we can choose to build a big, successful, rapid-growth company and invest back in our people, and our partners, and our communities, and generally into making the world a better place as we grow."
A longtime advocate for ethics in Silicon Valley, and the father of two daughters, Guagenti first encountered Cockroach's donation strategy at KubeCon North America in 2019, where it caught his attention amidst a "sea of sameness" on the event floor. Despite working for a competitor at the time, he willingly signed up to Cockroach's mailing list in order to donate to a cause in which he believed.
"I think the spirit of that is something a lot of people grabbed onto," he said.
During just two events in 2019 — KubeCon North America and AWS re:Invent — Cockroach scanned badges and gathered thousands of leads, donating over $14,500 dollars to Women Who Code. As COVID-19 turned 2020's events from physical to virtual, the company continued their drive, donating $3 for every person who registers through their Virtual Badge Scan campaign.
"I'm a big believer that you can do well and do good at the same time," Guagenti said. "I don't see those two things in contrast with each other. If you want to build a long-term, strong company, you don't just take profit from the communities you operate in. You invest in those communities you operate in."
Transforming software and society
There's a lot of celebrations over unicorn companies in Silicon Valley, but sometimes the quest for billions eclipses the bigger picture, according to Guagenti. Under his leadership, the Cockroach marketing department allocates a large portion of its budget to sponsorship and promotion in underrepresented developer communities.
"I'm able to vote with my dollars to support these underrepresented groups and to see them grow, and to see them succeed in addition to the broad reach things I'm doing," he said.
Cockroach, Sysdig and Instana share a common goal of not only growing their companies, but investing back into the communities that support them. And they are evangelical about encouraging others to join them.
"What we hope is that other companies will continue to jump on and we'll see even more tech company's participating in this causes so we can get more women, and kids in general, into technology," Matsuda said.
"If we want to make change in the world all you have to do is invest in it," Guagenti said. "We believe that we're not alone … in the desire to transform not just the software toolkit, but the environment that we operate in."
Photos: Janet Matsuda/SiliconANGLE
---
Since you're here …
Show your support for our mission with our one-click subscription to our YouTube channel (below). The more subscribers we have, the more YouTube will suggest relevant enterprise and emerging technology content to you. Thanks!
Support our mission:    >>>>>>  SUBSCRIBE NOW >>>>>>  to our YouTube channel.
… We'd also like to tell you about our mission and how you can help us fulfill it. SiliconANGLE Media Inc.'s business model is based on the intrinsic value of the content, not advertising. Unlike many online publications, we don't have a paywall or run banner advertising, because we want to keep our journalism open, without influence or the need to chase traffic.The journalism, reporting and commentary on SiliconANGLE — along with live, unscripted video from our Silicon Valley studio and globe-trotting video teams at theCUBE — take a lot of hard work, time and money. Keeping the quality high requires the support of sponsors who are aligned with our vision of ad-free journalism content.
If you like the reporting, video interviews and other ad-free content here, please take a moment to check out a sample of the video content supported by our sponsors, tweet your support, and keep coming back to SiliconANGLE.