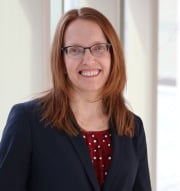 A Graduate School of Biomedical Sciences research team's far-reaching project to support professional development of early-career scientists received a significant boost recently with the award of a $2.3 million Innovative Programs to Enhance Research Training, or IPERT grant from the National Institute of General Medical Sciences.
The five-year grant supports the development of nationally sourced, competency-themed collections of evidence-based professional skills models, with training and mentoring for educators to aid their implementation within institutions, as well as support for evaluating their work according to rigorous protocols.
"Today's early-career scientists need a wide breadth of skills to adapt to the diverse professional roles they will move into after their PhD or postdoctoral training," said Cynthia N. Fuhrmann, PhD, who is principal investigator for the project. "They need to be aware of how science is done in both the private and public sectors, and to be able to communicate clearly in cross-disciplinary and collaborative settings. They need strong writing and leadership skills to efficiently publish their work, recruit funding and start up or manage research groups."
Students entering PhD training from backgrounds underrepresented in science often face additional hurdles, she added. They may face more challenges in interpreting and navigating "the unsaid culture of science," face implicit or explicit biases and have difficulty identifying multiple mentors who understand their unique challenges over the course of their science career. Professional development programs can help mitigate these challenges.
Dr. Fuhrmann, associate professor of biochemistry & molecular pharmacology and assistant dean of career and professional development in the GSBS, said the effort was seeded by the American Society for Biochemistry and Molecular Biology's 2016 summit on sustaining the biomedical research enterprise and is a component of the national Professional Development Hub initiative, known as PD | Hub, hosted by UMMS. The long-term goal is to develop a diverse biomedical research workforce with the professional skills critical to myriad biomedical careers.
Fuhrmann called the effort "groundbreaking" because in addition to leveraging peer review to broadly source and disseminate educational approaches—which is common in undergraduate education but rare in graduate education—"we will be creating a framework through which innovators can be supported, so it's easier for them to disseminate their work and do so with the details others need to emulate it." In the future, this framework could be applied to disseminate broader types of graduate education practices, across STEM disciplines.
The project's team, including researchers and educational leaders from University of California San Francisco, University of Maryland, Utah State University, University of Wisconsin Madison and University of Alabama, in partnership with numerous national organizations, will put out a call for submissions of innovative, effective models of biomedical research training. Fuhrmann said she expected four to seven models to be highlighted in the first collection. The collection would grow over time.
"Our goal is to create communities of practice around each collection," she said, "so we'll be hosting train-the-trainer workshops where educators from across the country can participate and then continue meeting regularly to share strategies they're trying."
Authors of selected models will become "fellows" and receive an honorarium, travel support, individual mentoring and recognition for their work. The team aims to better align incentives for professional development to be incorporated in graduate education.
A single assessment protocol will be developed for each collection of practices, derived from the selected models and published literature, to provide rigorous training and mentoring and responsible educational evaluation.
Fuhrmann said, "It's typical to assess satisfaction, for example, or whether students feel like they've learned skills. But wouldn't it be great to be able to push that boundary and evaluate what outcomes came out of this educational intervention?"
UMMS is an ideal host for PD | Hub's IPERT education collections project because "this project is about cross-disciplinary, cross-sector collaboration to enhance graduate education innovation, two values that are at the heart of our campus culture," said Fuhrmann.