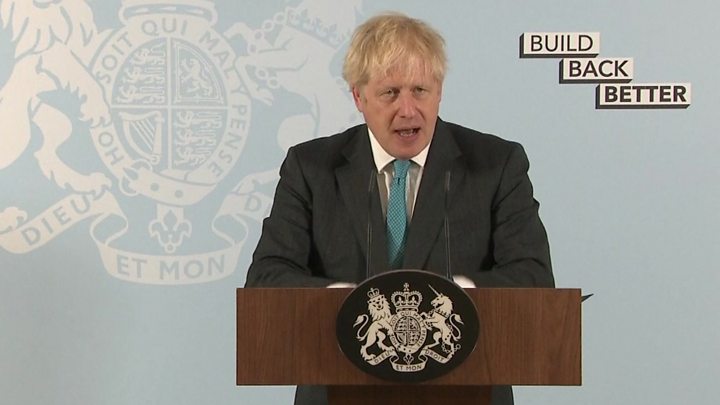 Boris Johnson has vowed "radical" changes to the adult education system in England to help boost the post-Covid economy.
The prime minister said the pandemic had "massively accelerated" changes to the world of work, and made training gaps "painfully apparent".
He said funding changes could help end the "bogus distinction" between academic and vocational learning.
But Labour said the plans would not make up for "a decade of cuts".
Speaking at a further education college in Exeter, Mr Johnson said the government cannot "save every job" amid the Covid-19 pandemic.
But he added that better training would "give people the skills to find and create new and better jobs".
He said a new "lifetime skills guarantee" would offer a fully funded college course to all people over 18 in England without an A-level or equivalent qualification.
Currently, only people aged under 23 qualify for a fully-funded qualification at this level.
The commitment will be paid for under an already-announced £2.5bn boost to England's National Skills Fund coming into effect next April.
Funding will be offered for courses offering "skills valued by employers" – with full list to be announced next month.
The prime minister added that the government would make higher education loans more flexible, to allow people to "space out their study across their lifetimes".
PM tries to offer some hope amid Covid gloom
Whether it's Boris Johnson's "levelling up" agenda or previous governments' promises to tackle the skills gap, some of what we've heard today may sound familiar.
For example, that the supply of skilled workers in certain industries simply isn't meeting demand, and calls to end the "snootiness" between academic and vocational qualifications.
Also familiar was the suggestion that the economy is evolving, at speed, as technology changes the way we live.
Coronavirus has, it's argued, accelerated the latter trend with, for example, more working from home and online shopping.
And that therefore the task of re-directing workers into industries where there's a shortage of workers has been made more urgent.
With fears unemployment will continue to rise, particularly in hospitality and retail, the government is saying that there will be more support for retraining.
But this announcement also comes a week after ministers opted for measures such as the 10pm curfew in bars and pubs.
That's led to accusations that this government is actually causing job losses in already hard-hit sectors.
With that in mind, and amid all the gloomier headlines, Boris Johnson may want to be the person offering some help and some hope.
The question is whether it's enough and in time.
Mr Johnson said the pandemic had "compressed" a "revolution" to the jobs market caused by trends such as online shopping.
He added that although some jobs would fall away, he wanted people to take advantage of "new opportunities opening up with dizzying speed".
Meanwhile, the government's Migration Advisory Committee (MAC) said care workers, butchers, and bricklayers should go on the UK's "shortage occupation list".
The recommended move would be easier for migrants to get a work visa for those jobs after the post-Brexit transition period ends in January.
In other plans, small businesses will be offered financial incentives to take on apprentices and £8m will be spent on skills "boot camps" in West Yorkshire, south-west England, Derbyshire and Nottinghamshire to cover sectors like construction and engineering.
This follows pilots in Greater Manchester and the West Midlands that focused on digital skills.
And the government's online Skills Toolkit, a collection of training resources launched in the spring to help people acquire jobs skills ahead of businesses reopening, will be expanded to include 62 additional courses.
Labour's shadow education secretary Kate Green called the new funding announcement "a mix of reheated old policies and funding that won't be available until April".
"By then many workers could have been out of work for nearly a year, and the Tories still think that they will need to take out loans to get the training they will need to get back in work."
Her party has previously called for the money in the National Skills Fund to be brought forward to tackle the crisis.
'Given me confidence'
Paul from Leeds lost his job at the start of lockdown and then saw several job opportunities fall through as the pandemic took hold.
But he says he eventually got a job as a site manager at his local primary school, after taking a course in children's mental health funded by the Yorkshire Cricket Foundation.
The qualification was his first experience of formal training since he took a glasswork and glazing apprenticeship around 20 years ago.
"Having the time is something I've never had before," said the father of three.
"If I hadn't done the course, I don't think I would have had the answers to the questions in the interview," he adds.
"It's given me the confidence to walk into a school and believe I can get the job."
CBI director general Dame Carolyn Fairbairn said the "significant" unemployment coronavirus is leaving in its wake "only accelerates the need for people to develop new skills and adapt to new ways of working".
"The lifetime skills guarantee and flexible loans to support bitesize learning are a strong start but to really shift gears, this must be backed up by meaningful progress on evolving the apprenticeship levy into a flexible skills levy," she added.
The apprenticeship levy – introduced in 2017 – takes 0.5% of the salary bill from major employers that have an annual pay bill over £3m, with the intention of using the money to improve skills and provide training.
How would you benefit from this offer to do free courses? Share your experiences by emailing [email protected].
Please include a contact number if you are willing to speak to a BBC journalist. You can also get in touch in the following ways:
WhatsApp: +44 7756 165803
Tweet: @BBC_HaveYourSay
Please read our terms & conditions and privacy policy
ASK MARTIN LEWIS: Is there a silver lining to a Covid Christmas?
CRAFT BEER AND COVID-19: How is the brewing industry coping during the pandemic?