It was back in the summer that we first announced the class of 2020, but we also want to put the spotlight again on the individual winners.
Today, taking it alphabetically, we're highlighting Ben Cartwright, a Spacecraft Electronics/Systems Engineer at STFC (Science and Technology Facilities Council) and Citadel Space Systems.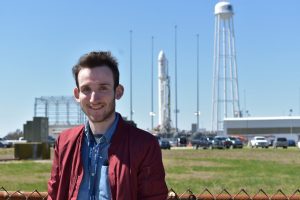 Achievements
Ben graduated from Aston University with a master's Degree (1st class with honours).
Ben achieved a great deal at Aston university including being Elected the Vice President of the Aston Electronics Society for 2015-16 and Vice President of the Aston eSports Society for 2014-16. He was also Founder and President of the Aston Astronomy and Astronautics Society.
In his time at Aston, he also received several awards; the Humphrey Orwin Memorial Prize for top first year on the Electronic Engineering and Computer Science programme and went on to win two further awards in final year: for best final year project for his work on a navigation system for cubesats, and the award from the Institute of Engineering and Technology.
Having left university, Ben is now working as a space systems/electronics engineer with an interest in nanosatellite systems design and spacecraft electronics engineering. Specifically, an electronic instrument engineer at the cutting edge of the space industry.
…
Read the full profile here.
See all the profiles of the EW BrightSparks 2020 below.
And you can read more about the EW BrightSparks programme, at electronicsweekly.com/brightsparks/
EW BrightSparks 2020
Here is the full list of 2020 EW BrightSparks.
Jordan Albutt, Manufacturing Leadership Engineering Degree Apprentice, Rolls-Royce / University of Warwick
Aakash Bansal, PhD Electrical Electronic and System Engineering, Loughborough University
Ben Cartwright, Spacecraft Electronics/Systems Engineer, STFC and Citadel Space Systems
Rodosthenis Charalampous, Industrial PhD Researcher / Electrical and Electronic Engineering, National Nuclear Laboratory / The University of Manchester
Nicole Cox, Graduate Engineer, Siemens Rail Infrastructure
Yanislav Donchev, MSc Artificial Intelligence, University of Southampton
Lauren Gray, Development Scientist, Peratech
Anna Hart, Graduate Electronics Engineer, Leonardo
James Imber, Senior Research Engineer, Imagination Technologies
Dominic Lane, PhD student, Lancaster University
Cheng Hao Lim, MEng Electronics and Electrical Engineering, University of Edinburgh
Marnie McKay, Graduate Engineer, Atkins
James Morris, CEO, Intelliroller
Grant Mullen, Founder, Managing Director, Ai Automation
Zain Nazar, Digital & Technological Solutions Degree Apprentice (Software Developer/Engineer), BT
Tom O'Brien, TV and Digital Media Apprentice, BT
Amber O'Connor, Equipment Health Monitoring & Performance Engineer and Remote Diagnostic Services Programme Manager, Siemens Aeroderivative Gas Turbines
Olivia Ojuroye, Product Specialist, The Wearable Tech Hub
Gethn Pickard, Graduate Engineer, Plessey Semiconductors
Luke Richards, MEng Mechanical Engineering, University of South Wales
Katherine Scott, TV & Digital Media Degree Apprentice, BT
Andy Tay Kah Ping, Research Fellow, Imperial College London
Elvis Tinago, Student / MEng Aerospace Engineering, University of West of England Bristol
Alexander Tomlinson, Lead Analytical Measurement and Equipment Engineer, Jaguar Land Rover
James Veale, Mechanical Engineer (Ice Core Drilling), British Antarctic Survey
Kyle Walker, Phd Student Underwater Robotics, University of Edinburgh
Ying Wan Loh, Manufacturing engineer, Rolls-Royce, University of Cambridge
Tyler Ward, Senior Engineer, Audioscenic
Adam Wilson, Embedded Electronics Engineer, Centre for Process Innovation (CPI) UK
James Zaremba, BEng Electronic and Electrical Engineering, Swansea University
Thank you to everyone who entered for the EW BrightSparks programme, including those not listed here. The standard for 2020 was exceptionally high this year, so many excellent candidates did not make this shortlist.
Our associates
We would also like to thank our associate supporting companies, which help to promote the EW BrightSparks programme and its aims.
Harting
TRACO Power
TE Connectivity
UK Electronics Skills Foundation
Their help is very much appreciated!