This is the latest edition of the AFR Work & Careers weekly newsletter. To get it sent straight to your inbox every Thursday, sign up here.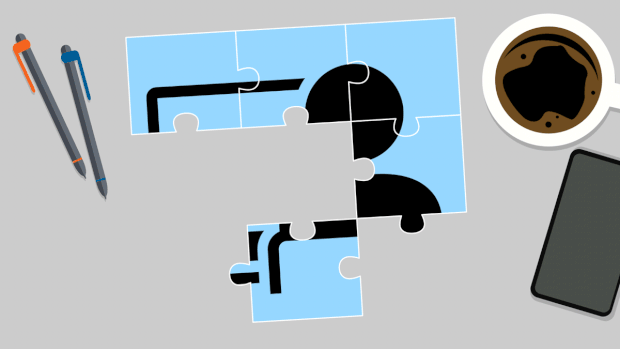 Future-proof your career
Australia is in its first recession in 29 years, unemployment is at a 22-year high and each week seems to unleash a new wave of job losses.
For young professionals, it adds up to one of the choppiest job markets they have faced. But it's not too late for workers to start thinking about future-proofing their careers, say experts.
Here are their top tips.
AMP crisis deepens
The crisis facing AMP continued to deepen this week as Julie Szlakowski broke her silence about her alleged sexual harassment by new AMP Capital boss Boe Pahari.
AMP is now in discussions with her lawyers about the release of an independent investigation into her complaints.
As Michael Roddan reported this week, the company has continued to defend Mr Pahari, who appointed himself chairman of AMP Capital's inclusion and diversity council.
The company's defence of Mr Pahari comes despite mounting pressure from some of its largest shareholders, who have labelled the AMP board "tone-deaf" and argue his position is untenable.
How bots can help you get hired in a pandemic
Welcome to the new world of job interviews, where robots are the ones doing the hiring.
Although artificial intelligence being used in recruitment is not new, experts predict it will continue to rise in popularity as competition in the jobs market heats up because of COVID-19.
How to create a great place to work during COVID-19
The uncertainty and anxiety generated by the pandemic have sapped employee engagement. Amantha Imber looks at four ways to get it back in this week's BOSS.
Why Atlassian still needs a big new office in work-from-home future
Mike Cannon-Brookes has no regrets about planning a big new corporate HQ in central Sydney.
The Atlassian boss still expects many workers will come in to its offices, despite being allowed to work from anywhere, saying office spaces will still be important after the virus threat passes.
Quote of the week
Only by being open when things are tough will your staff know that it's OK to do the same.

— Trent Innes
The Xero managing director says he has quickly discovered there's no handbook when it comes to leading through a pandemic. He says COVID-19 has been a huge adjustment – it has even meant he's had to work from his car.
By the numbers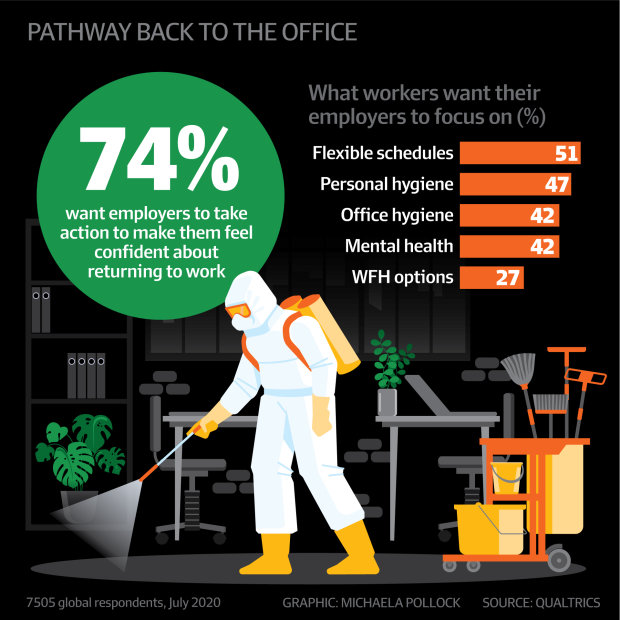 Almost three-quarters of workers want a say about what would make them feel safe returning to the workplace.
Employees expect there to be a higher focus on hygiene, flexible work and mental health, according to the survey from employee survey software company Qualtrics.
Tip of the week
How to get noticed for all the right reasons
Always do what you say you're going to do and say what you mean, says Garry Browne, author of Brand New Brand You.
"Be reliable and dependable; this is how you build trust," he says.
"Foster a mindset of helping other people. Being reputable goes beyond concern for yourself and your own advancement."
Browne also recommends going a step (or two) beyond what is expected.
"The actions of someone who goes above and beyond will be noticed. They stand out as a positive role model for everyone," he says.
Work wrap
Join us for Rethinking Work
The success of the working from home experiment during COVID-19 is challenging employers and employees to rethink workplace, space and technology. How prepared are we for the future of work?
Rethinking Work is the second instalment of The Australian Financial Review Reshaping Australia Dialogues, in partnership with Microsoft.
Hear from Expert360 co-founder Bridget Loudon, Telstra CEO Andy Penn, WeWork Australia general manager Balder Tol, BHP chief people officer Athalie Williams and CEDA chief executive Melinda Cilento.
Watch Live here at 10am AEST on Thursday, August 27.
Subscribe
This is the latest edition of the AFR Work & Careers weekly newsletter. To get it sent straight to your inbox every Thursday, sign up here.