Amazon.com Inc. today announced a panoply of new devices at its annual Devices and Services hardware event, including new Echo, Ring, Fire TV and other devices — as well as a novel indoor drone security cam.
Many of these products use Amazon Alexa, whose voice-powered capabilities got a boost from artificial intelligence to hold more natural conversations with people.
Taken together — indeed, glued together partly with Alexa and with Amazon's cloud unit Amazon Web Services Inc. — the raft of new devices introduced at the event highlighted Amazon's big ambitions in consumer hardware versus rivals such as Apple Inc., Google LLC and many other large consumer electronics firms looking to offer a soup-to-nuts collection of devices that work together more seamlessly.
"Amazon is looking to minimize its dependency on third-party hardware providers and continue the company's trend of bringing the design and production in-house," said Nucleus Research analyst Nicholas Grizzell. "The goal is to widen profit margins and ensure the hardware is capable of delivering the processing and storage needed for the next generation of capabilities and services from AWS."
Amazon Alexa improvements
A large part of these product reveals has been introducing a new Alexa, not just about hardware, but software, as the artificial intelligence herself has gotten some upgrades.
The speech patterns have become more natural and less stilted, with additional pauses and breaths designed to sound like normal speech.
Alexa can also enter into the normal flow of conversations when the device is placed between two people who are interacting with it as if it's an object of context and attention. Alexa's AI can use cues from the conversation to tell if a person is speaking to it or to someone else to decide to enter into the conversation or not — no more accidentally triggering it while talking to someone else.
For example, when deciding what movie to watch, two people could discuss their preferences for a moment before finally asking Alexa for a suggestion and Alexa would wait its turn. These improvements to Alexa's conversational AI are intended to make using it in the home more useful in everyday tasks.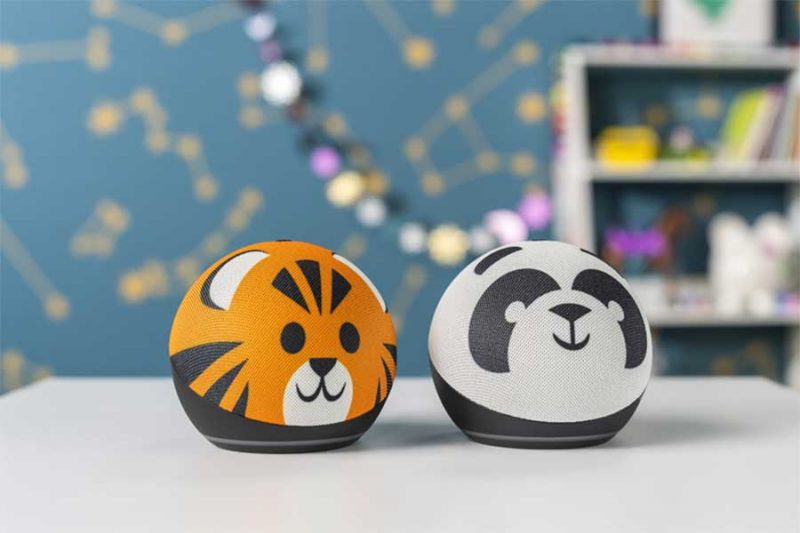 Amazon Echo
The Amazon Echo is getting a makeover with the all-new spherical Amazon Echo and Echo Plus devices with Dolby stereo sound, cloth covering, a built-in Zigbee device communications and home automation hub and Sidewalk Bridge wireless networking capabilities. The updated Echo will sell for $99.99.
Its smaller companions, the Echo Dot and Echo Dot with Clock, will be $49.99 and $59.99. These two also have Echo Dot Kids Edition that will also come with tiger and panda paint jobs, both for the latter price tag.
Amazon Sidewalk is a solution that makes it easy to set up mesh networks in the house with other Amazon devices such as Ring Smart Lighting that may be beyond the range of home WiFi.
The device is also powered by Amazon's first-generation AZ1 Neural Edge processor — an all-new silicon module that's purpose-built for accelerating machine learning applications. With AZ1, powerful inference engines can run quickly even if the device loses access to WiFI using speech recognition models processing requests quickly within the device itself.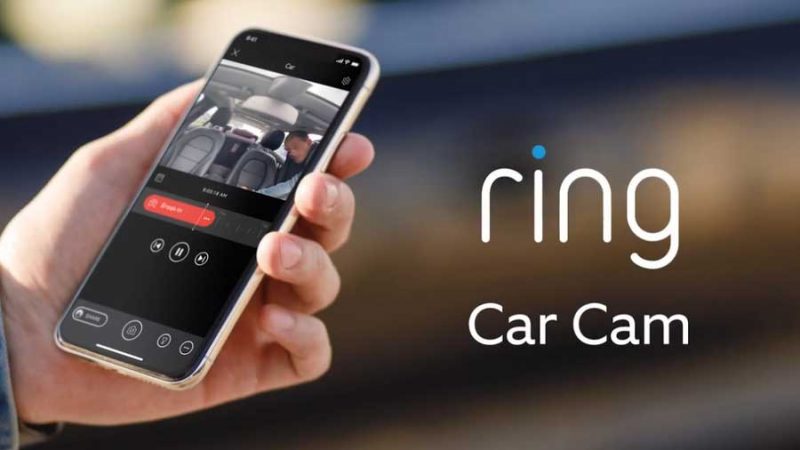 Ring Car Security, Alarm, Cam and Connect
For many people, motor vehicles are part of their lives and cars are extremely valuable, so today Amazon Ring is introducing three new security features for the car: Ring Car Alarm, Ring Car Cam and Ring Car Connect.
Car Alarm is a low-cost device that will protect users' cars while at home and throughout the neighborhood using wireless devices by alerting in the event of bumps, break-ins, tows and more.
When an event is logged, Car Alarm sends a real-time alert via the Ring app, telling a user to then trigger its siren. If users have other Ring or Alexa-enabled devices, they can easily link them to their Ring Car Alarm so when an event is detected, Car Alarm can trigger their Ring devices can send audible Alexa alerts for added notification options. Some Car Alarm features require connectivity with Amazon Sidewalk.
Car Cam is a security camera that brings the full power of Rings whole-home security to the car. When a car is parked, Car Cam is on guard and its intelligent sensors actively monitor for bumps and attempted break-ins. If an event is detected, Car Cam sends a real-time alert to the user's phone.
While on the road, this can also be connected to Alexa. For example, if the user gets pulled over, the user can say, "Alexa, I'm being pulled over," this causes the dashcam to begin recording to a secure cloud for the safety of the user.
Car Connect is an application programming interface for developers and car manufacturers that allows customers to receive mobile alerts for detected events, watch recorded vehicle video footage and see important vehicle information such as if the car is locked or unlocked. Starting today, any auto manufacturer can integrate the service.
The first compatible vehicles for Car Connect are Tesla models 3, X, S and Y.
Ring Always Home Cam
The Ring Always Home Cam from Amazon's Ring division gives homeowners a new "perspective" on home security by providing a variety of viewpoints throughout their home without having to purchase multiple cameras. That's because instead of many cameras it is a tiny indoor-only autonomous flying camera that patrols a predetermined path set by the user.
It's designed that way to provide greater visibility when no one is at home. When used with Ring Alarm, the Ring Always Home Cam will fly the appropriate paths to check for potential disturbances when an alarm sensor is triggered. The drone was built with both privacy in mind and records video only when in flight.
When not in use, it remains in the dock and the camera is physically blocked. When in motion, it makes an audible sound – as the company puts it: privacy you can hear.
This device is expected to become available in 2021 for a price tag of $249.99.
Echo Show 10
The Echo Show 10 is an all-in-one video conferencing system that essentially follows you around the room like a science fiction video portal. It does so with a 10-inch HD display, a 13-megapixel camera, front-firing tweeters and a powerful woofer, providing premium, directional sound that automatically adapts to the space it's in. That makes it suitable for music, video and just hanging out.
What's more, thanks to a nearly silent motor, the Echo show can rotate as people move around, which makes for more natural conversations for Zoom, Amazon Chime and other group calls. And in this age of social distancing, it also could be used for creating a hangout in the kitchen for cooking, a hangout in the living room for Amazon videos, watching Hulu or "Netflix and chill."
Most importantly, the device has a camera shutter and an electrical cutoff on the microphone.
The new Echo Show 10 will have a price tag of $249.99 and will be available in Charcoal and Glacier White. It's set to start shipping in time for the holidays.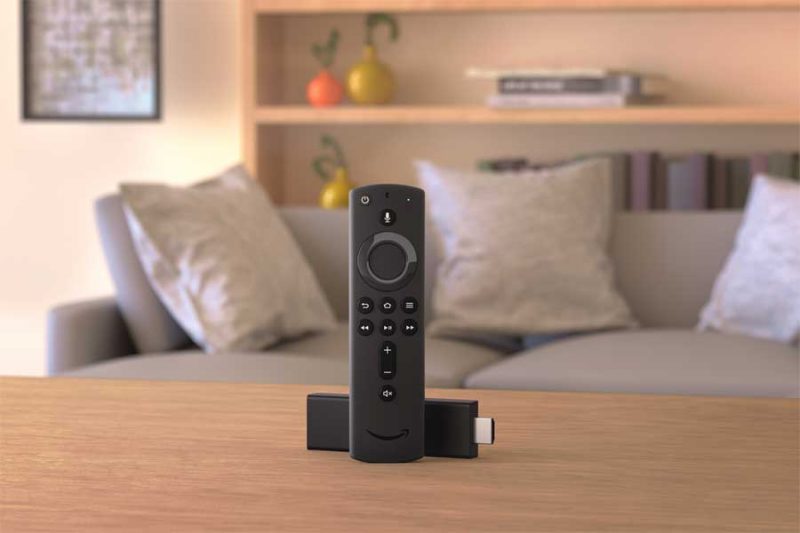 Fire TV Stick and Fire TV Stick Lite
With more than 100 million devices sold globally, Fire TV customers are streaming billions of hours each month. Today Fire TV Stick got an upgrade with the next-generation of the new Fire TV Stick Lite and a reimagined Fire TV experience.
The Fire TV Stick will have an enhanced 1.7-gigahertz quad-core processor that will make it 50% more powerful than its previous generation. It will come with a price tag of $39.99.
The device also will deliver faster streaming in 1080p at 60 frames per second with HDR compatibility in dual-band, dual-antenna WiFi support for 5 GHz networks, thus more stable streaming and fewer dropped connections. It also features Dobly Atmos for immersive sound with compatible content and speakers, and an Alexa Voice Remote with dedicated power, volume and mute buttons for easy control of the TV.
In addition, the new generation of Fire TV Stick will provide improved performance while consuming 50% less power than the previous generation.
The Fire TV Stick Lite is a new, more affordable version of the Stick that will allow people to begin streaming in full HD. It will come with a price tag of $29.99.
The Stick Lite is also 50% more powerful than the previous-generation Stick and includes the most processing power of any streaming media player under $30, according to Amazon. It features full HDR support and comes with Alexa Voice Remote Lite.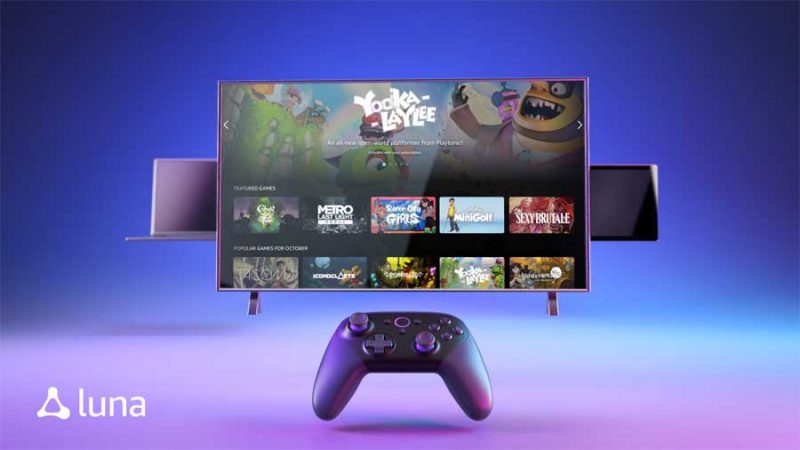 Amazon Luna
Amazon's Luna is a new cloud game streaming service designed to provide instant play. U.S.-based gamers can request early access to Amazon Luna today.
Luna is powered by Amazon Web Services and it can broadcast to virtually any Bluetooth or WiFi-enabled display device using its controller. At launch, Luna will be available on Fire TV, PC and Mac, as well as on web apps for iPhone web Android coming soon.
"We created Luna to make it easy to play great games on the devices customers already own and love," said Marc Whitten, vice president of Amazon Entertainment Devices and Services.
Players can subscribe to the Luna+ game channel, which will be offered at an introductory price of $5.99 per month during the early access period. "It's day one for Luna," said Whitten, "and we are working with gamers, streamers, and publishers like Ubisoft and Remedy Entertainment to build a great gaming experience for everyone."
During early access, Luna+ will include action games such as "Resident Evil 7," "Control," and "Panzer Dragoon;" adventure games that include "A Plague Tale: Innocence" and "The Surge 2;" platformers such as Yooka-Laylee and "The Impossible Lair" and "Iconoclasts;" and classics such as "GRID," "ABZU" and "Brothers: A Tale of Two Sons."
Images: Amazon
---
Since you're here …
Show your support for our mission with our one-click subscription to our YouTube channel (below). The more subscribers we have, the more YouTube will suggest relevant enterprise and emerging technology content to you. Thanks!
Support our mission:    >>>>>>  SUBSCRIBE NOW >>>>>>  to our YouTube channel.
… We'd also like to tell you about our mission and how you can help us fulfill it. SiliconANGLE Media Inc.'s business model is based on the intrinsic value of the content, not advertising. Unlike many online publications, we don't have a paywall or run banner advertising, because we want to keep our journalism open, without influence or the need to chase traffic.The journalism, reporting and commentary on SiliconANGLE — along with live, unscripted video from our Silicon Valley studio and globe-trotting video teams at theCUBE — take a lot of hard work, time and money. Keeping the quality high requires the support of sponsors who are aligned with our vision of ad-free journalism content.
If you like the reporting, video interviews and other ad-free content here, please take a moment to check out a sample of the video content supported by our sponsors, tweet your support, and keep coming back to SiliconANGLE.