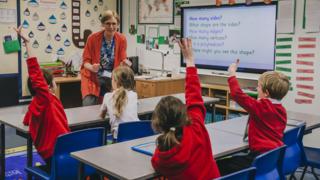 Better-off pupils in England will see larger school funding increases than poorer pupils under the government's latest plan, a study suggests.
The government's drive to "level up" funding will disproportionately benefit schools in better-off areas, argues the Education Policy Institute (EPI).
The schools' budget will rise by £7.1bn by 2022-23 under government plans.
The government said schools with higher numbers of pupils from disadvantaged backgrounds remained a priority.
School leaders in England have been complaining of a worsening budget squeeze.
The government has responded by announcing a National Funding Formula for schools, designed to ensure pupils with the same characteristics get the same level of funding, regardless of where in the country they go to school.
The Department for Education says the plan will give "every school more money for every child".
Multi-billion pound cash boost for schools
School funding top priority for Williamson
But new
…
Read More