The following immortal Neil deGrasse Tyson quote just about sums up my view on the high-quality BlackRock Science and Technology Trust (BST):
Innovations in science and technology are the engines of the 21st-century economy; if you care about the wealth and health of your nation tomorrow, then you'd better rethink how you allocate taxes to fund science. The federal budget needs to recognize this."
Even before the impact of the pandemic was known, science and technology stocks were outperforming the broader market. Science and technology will also lead us in the post-COVID-19 age. I'm sure many will agree.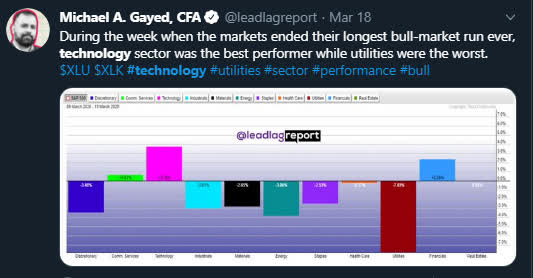 Source: Twitter (@LeadLagReport)
The sector was doing very well before the pandemic and is expected to do better in its aftermath. So, yeah, I'm very bullish on BST for the long term, both as a dividend play and growth play. BST invests in current leaders and emerging winners in the field
…
Read More